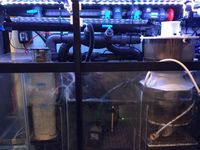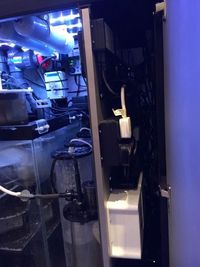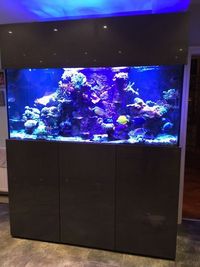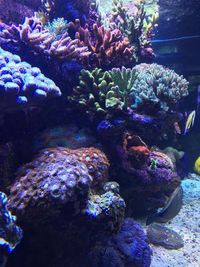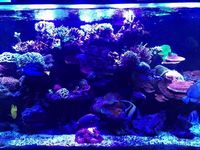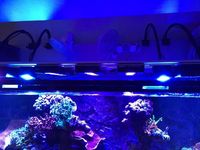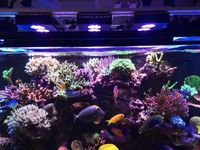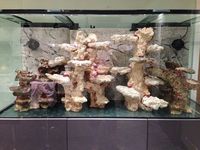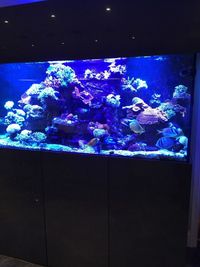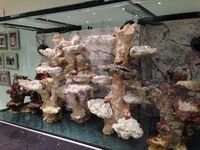 Description: £1,600

PRICE IS FOR THE TANK, STEEL FRAME, CUSTOM SUMP AND CUSTOM HOOD, AND THE AQUAROCHE (livestock and equipment have been sold)

PLEASE CONTACT 07595 288639 TO ARRANGE TO VIEW
Large custom aquarium, steel frame, well looked after, reef aquarium.

I bought this from Aquariums4life, custom designed for £3,000. I paid about £1,000 for the aquaroche.

Please see the website for the awesome quality - http://aquariums4life.co.uk/

I bought it in Jan 2014, and so it's still under the 3 yr warranty.

It's my pride and joy, and have spent a lot of money on it. I'm only selling as we're planning on moving.

Please see https://www.youtube.com/watch?v=AbzUjWU7K_0 for my channel, and subsequent videos to show you all the lovely livestock, and all the blood and sweat I've put into this.

Its 65"L by 30"H by 24"W, which makes a water volume of 767L
The sump is 48 by 24 by 18 which makes a sump volume of 339L

It has a custom pelmet which hides everything, but yet is accessible with a soft close hinge at the top. It has shelves so you can lower your lighting accordingly.

It has a removable electrical panel so that this can be removed, but yet you can hide all the wires.

The stand is at about 42" high so it gives a perfect view for someone standing (I'm quite tall and so didn't want to crouch!)

It uses a central overflow with 3 * 1.5" drains (to prevent flooding), and 1 * 1.5" return.

Includes about £1000 worth of lovely aquaroche. The last 2 pictures show you the aquaroche when it was set up pre-coral.

Includes all the pipework (easily spent £500+ just on gate valves/unions etc) seen, which can be dismantled - but you may need some skills in order to reassemble it the other end.

I will help my end to disassemble it, but you will need a big van, 4-5 guys at least for the lift of the tank etc. As you can see, it's probably not for the beginner!

THE PRICE DOES NOT INCLUDE ANY EQUIPMENT OR LIVESTOCK
I can fwd the PDF of the specification, but only if you're interested.

Cash on collection from M33.

Contact Information
Advertiser: Richard
Telephone: 07595288639
Town: Sale
County: Cheshire
Web Link: https://www.youtube.com/watch?v=AbzUjWU7 ...

---