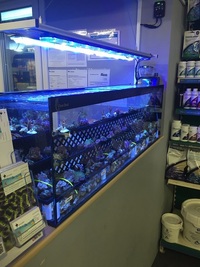 Description: Description: At Coxwell Aquatics we offer a courier service for all our livestock, UK Mainland delivery at £26 includes poly box and heat packs, please contact our aquatics department for more information
Tel:01235 519502
E-mail: [email protected]

All our livestock can also be seen in store, for regular updates and pictures of current stock please check out our Facebook profile.

224 Broadway
Didcot
Oxfordshire
OX11 8RS

We look forward to seeing you!

PLEASE CLICK ON OUR WEBLINK TO VIEW STOCKLIST

Contact Information
Advertiser: Coxwell Aquatics
Telephone: 01235 519502
Town: Didcot
County: Oxfordshire
Web Link: http://www.coxwellaquatics.co.uk/fish-st ...
Web Link: https://www.facebook.com/Coxwell-Aquatic ...
Map Link: https://www.google.co.uk/maps/place/Coxw ...

---