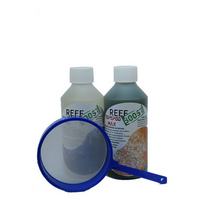 Description: Copepods or Copepod Starter Kit with or without 200 micron Net

Just Copepods (Mandarin Mix) - £7

Copepod Starter Kit without Net - £13

Copepod Starter Kit with Net - £18

1st Class P&P £3.50 in UK

275ml Copepod Starter Culture & 275ml Enriched Copepod Food & 200 micron Mesh Net

Culture your own Copepods. Kit comes with the Copepods, the enriched food to culture them and basic instructions and a net to harvest your copepods. Copepods available separately and in larger sizes as is the enriched feed, Copepod MAX. Message me for more details

Mandarin Mix - 275ml Freshly harvested live breeding adult copepods and rotifers

MANDARIN MIX- the name says it all. If you have a Mandarin then you will be needing our MANDARIN MIX. Contains freshly harvested Copepods & Rotifers, ideal for Mandarins, Gobies, Blennies, Pipe fish and Sea Horses.

Male and female adult and young copepods all fed on high nutrition enriched Copepod/Rotifier food

COPEPOD MAX - 275ml Enriched Copepod Feed

This is ReefBoosts perfect enriched feed for feeding Copepod cultures. We are experiencing amazing results with our Copepod cultures (ReefBoost Mandarin Mix) since using this enriched blend of live ReefBoost phytoplankton and formulation of special yeast microalgae based foods. These additional nutrients are fortified with a rich, full, vitamin mixture and specific essential trace nutrients.

It is also a great nutritional food for all filter feeders in your reef tank. LPS, SPS and soft corals will benefit from this nutritional mix but use sparingly as its more concentrated

Also Incudes:

200 Micron detachable mesh net/sieve for Copepods, Baby Brine Shrimp and Rotifers

Synthetic fibre, 200 micron mesh for sieving copepods, brine shrimp and rotifers. Sieve size 16.5cm x 8.5cm x 2.2cm Has detachable mesh for easy cleaning

The Copepod Starter Kits are available direct from ReefBoost or on eBay at

http://www.ebay.co.uk/itm/Copepod-Starter-Kit-amp-200micron-Net-275ml-Live-Copepods-and-275ml-Copepod-MAX-/132280592295?ssPageName=STRK:MESE:IT

All ReefBoost products can be seen and purchased on eBay on http://www.ebay.co.uk/sch/reefboost/m.html…

If you would like to purchase direct from ReefBoost, message me on here or email on [email protected] Postage is additional £3.50 per kit for 1st Class with Royal Mail

Join us on ReefBoost https://www.facebook.com/groups/759403030842869

Contact Information
Advertiser: Andrew Clarke
Telephone: 07961994483
Town: Heald Green, Cheadle
County: Cheshire
Web Link: http://www.ebay.co.uk/…/Copepod-Starter- ...
Web Link: http://www.facebook.com/groups/759403030 ...

---