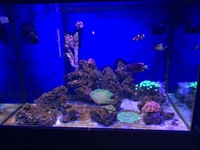 Description: 300L approx Full Marine Fish tank setup for sale - £650
- includes tank and cabinet
- LED lighting
- 50L approx sump (including skimmer, heater and return pump)
- RO unit (including some spare filters)
- and various other related items

Tank Dimensions (approx):
96cm wide
63cm deep
60cm tall

Cabinet Dimensions (approx):
96cm wide
63cm deep
100cm tall


Fish / Inverts:
Gold rush tang
One spot foxface
2 clown fish
Sulphur goby
Pincushion urchin

Corals:
Leather toadstool
ST plate
Red Acan
Ultra green candy cane
Brown button polyp

Full List available on request, offers accepted.

More photos available on link below

Am willing to also sell fish/corals separately.

Contact Information
Advertiser: Daniel Evans
Telephone: 07958564018
Town: St Albans
County: Hertfordshire
Web Link: https://www.dropbox.com/sh/tq58qc8zsvywb ...

---