Oct 2016: New category: Reptiles & Amphibians
Check replies to your adverts plus your own messages in the new MESSAGES CENTER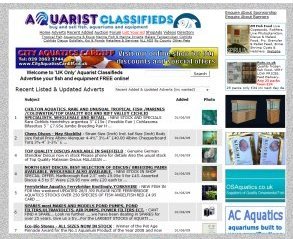 Advertise your fish, tanks and equipment
free of charge. REGISTER HERE LOGIN
There are thousands of fishkeeping adverts to browse through. Whatever type of fish you are interested in, you will find them here at Aquarist Classifieds. Check out the classified adverts using the top links. The county link can help you see whats on sale in your area.
To add your FREE classifieds adverts:
1: Make an account or login.
2: Add your advert by clicking on 'List an Ad'.
Webmaster contact: [email protected]