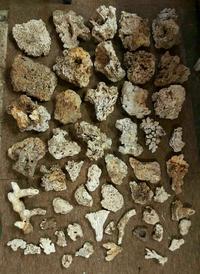 Description: There is 50kgs of live rock here for sale.

This has been in a tub of saltwater for 21 weeks so far cycling with multiple pumps heater protein skimmer and light.

This is good quality live rock with no pests.

There is however no coralline on it due to it being cycled in a water butt. The coralline will come quickly once introduced to a source, but as far as the bacteria on the rock, it should be ready to go. I have used my aquarium water for water changes and various bacteria cultures to speed things up and encourage diversity.

I am now selling as a job lot for £150 or £4.50 a kilo.

Collection PO3 Portsmouth

Contact Information
Advertiser: Ben Green
Telephone: 07815755415
Town: Portsmouth
County: Hampshire
Web Link: http://www.ultimatereef.net/forums/attac ...

---