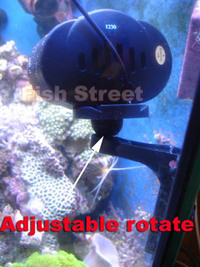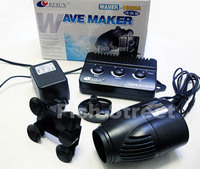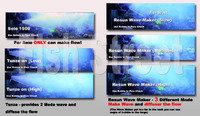 Description: Advanced control system
New Design of using magnet outside of the tank that easy to adjustable .(Like tunze or hydor)
New Deisgn using four super suction cups can mount in the any type of tanks. No need worry some upper glass block the mount
Long Power circult cable (380cm) allow you locate in any places
Produces 3 different waves or whirlpools, automatically change, and adjustable timer control.

The small-medium-large waves change automatically in turn to recreate natural wave seen in wave effect
Duration of different waves is adjustable to product best condition for fish.
More slient than before! Using low voltage DC pump makes it safe for users

Wave information

Small: Power 6.5W / Qmax. 2000 l/h 530 gph / Adjustable Duration 10-20s

Medium: Power 12.5W / Qmax. 8000 l/h 2116 gph / Adjustable Duration 5-15s

Large: Power 25W / Qmax. 15000 l/h 3968 gph / Adjustable Duration 2-10s



Specification



Pump size: Length 14CM / Width 10CM / Height 7CM
Size: Length 16CM / Width 10CM /Height 4.5CM
Transformer size:Length 10CM / Width 6CM / Height 4CM
VOLTĄG220-240V 50/60 hz

http://stores.ebay.com/International-Fish-Street

Contact Information
Advertiser: ilovesky
Telephone: 85264208338
Town: HK
County: Berkshire
Web Link: http://cgi.ebay.com/New-Design-Resun-Wav ...

---